Becoming Credit Worthy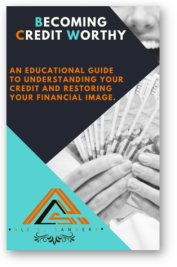 This self-help guide provides a very simple and interactive approach to understanding who you are as it relates to your credit. As often shared, you're more than just a credit score. It's not just the large factors, it's also those small things that can play a major role in whether you're approved or denied.
One of the special features within this Self Help guide is a step by step process on how you as a consumer can repair your own credit. Included are template dispute letters with the language already included. With so many seeking to increase their credit scores, this can be a great resource to jump start you into restoring your financial image! This guide is not just for beginners but for all those who are looking to Becoming Credit Worthy! Here is just a sampling of what you'll receive.